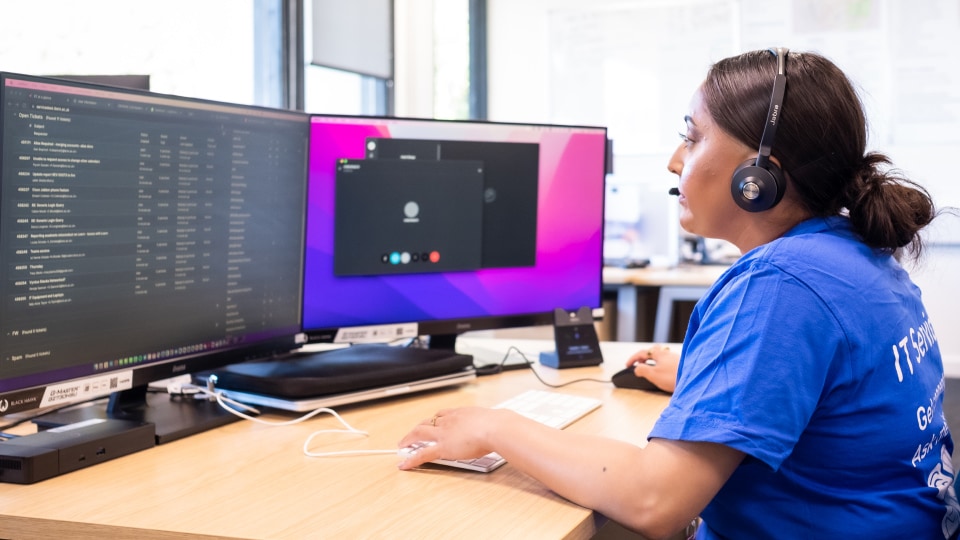 IT Service Desk
The IT Service Desk is the central point of contact for staff and students seeking help, advice, and support for all IT related services.
To submit a query, issue or request, please use the 'Contact IT Services' button below, and you will be provided with a ticket number for your reference until the call is resolved. If you need to highlight an urgent issue to us, please call us quoting your ticket number if you have one.
Contact us
Opening hours: Monday to Friday from 08:45 – 17:00
Email: IT.Services@lboro.ac.uk
Phone: 01509 222333
Calls submitted over a weekend, Bank Holiday or University closure date will be attended to the following working day.
*Please note: that we are currently handling a high volume of support calls, so it may take us a little longer than usual to pick up your email. Please bear with us & we will respond as soon as possible.
Research Computing Support
For support in the first instance, please email research computing.
In response, you will receive an automated email response from RT, our call management system. This request ticket is then passed onto the research computing team and one of the members of the team will pick this up and respond and work towards a solution to the problem or query.
Please do not email research computing team members directly, as your query may not be answered (that team member may be away).